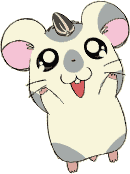 Oxnard (こうしくん, Koushi-kun) is a tall, gluttonous hamster. He is Hamtaro's best friend and is the husband of Pepper.
Character
Edit
Oxnard is a food-loving hamster, he is usually seen eating, and, like most of the hamsters, he is easily tempted by sunflower seeds, but seems to be more in a craze due to his large appetite. He is Hamtaro's first and best friend, and it is also a coincidence that their owners are best friends at school. Oxnard is a rather clumsy hamster but can also be a caring friend to Hamtaro. Although he goes on many adventures like the rest of the Ham-Hams, he doesn't seem to be as active as they are, having to visibly run slower than the others. He is usually seen with a sunflower seed in case he gets hungry. Oxnard is very loyal, and, despite being a coward, he can be very brave.
Ad blocker interference detected!
Wikia is a free-to-use site that makes money from advertising. We have a modified experience for viewers using ad blockers

Wikia is not accessible if you've made further modifications. Remove the custom ad blocker rule(s) and the page will load as expected.