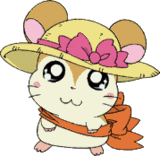 Oshare (おしゃれちゃん, Oshare-chan) is a Ham-Ham who appears in some of the Japanese episodes. Her fur is the a similar color to Pashmina's, but it comes down a bit farther on her face and she has rosy cheeks. She wears a gardening hat and is from France, like Bijou. 
Character
Edit
Oshare is owned by a friend of Bijou's owner Maria. Bijou and Oshare are also friends. Both Oshare and her owner are Parisian supermodels, and because of this, and also the fact that she has a crush on Hamtaro, Sparkle sees her as a rival.
Ad blocker interference detected!
Wikia is a free-to-use site that makes money from advertising. We have a modified experience for viewers using ad blockers

Wikia is not accessible if you've made further modifications. Remove the custom ad blocker rule(s) and the page will load as expected.