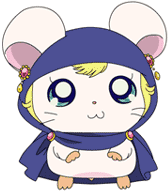 Lapis (ラピスちゃん, Rapisu-chan) is a hamster who appears in Ham-Ham Games, Nazo Nazo Q and after the ending of the Japanese Episode 193.
Character
Edit
Lapis and her sister Lazuli are owned by Maggie O'Hara. They live in Jewelry House and work in a magical candy world called Sweet Paradise, which the Ham-Hams visit frequently in later episodes. In the later episodes, she begins to have a crush on Hamtaro.
Name meaning:Lapis/Lazuli is a blue type of gemstone.
Ad blocker interference detected!
Wikia is a free-to-use site that makes money from advertising. We have a modified experience for viewers using ad blockers

Wikia is not accessible if you've made further modifications. Remove the custom ad blocker rule(s) and the page will load as expected.