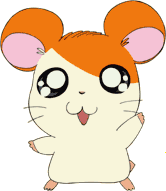 Hamtaro (ハム太郎, Hamutarō) is a male hamster and the main character of the anime Hamtaro. Hamtaro and his friends love to have fun. He has a great relationship with his owner, Laura. Bijou has a crush on him, but he doesn't seem to notice. Hamtaro is always there for his friends. It doesn't matter if it is Boss or Snoozer; he will gladly help.
Character
Edit
Owned by Laura Haruna, Hamtaro is a Ham-Ham who's always ready to help out his friends and his owner Laura. He can't stand being ignored by Laura. He is often seen as the leader of the Ham-Hams. Due to his innocent nature, he is clueless about many things, especially love, and it would appear that Bijou, Barrette, Sparkle, Lapis, and Oshare all have developed a crush on him.He is loved by four different girls.Hamtaro makes the most of his life as a small hamster and lives each day in happiness hoping to make more friends and to have fun. In the original anime, Hamtaro ends his sentences with 'na no da', a phrase often used by playful characters. This is changed to, "Hamha!", "Pakapaka", and "kush kush" in the English version.
Ad blocker interference detected!
Wikia is a free-to-use site that makes money from advertising. We have a modified experience for viewers using ad blockers

Wikia is not accessible if you've made further modifications. Remove the custom ad blocker rule(s) and the page will load as expected.