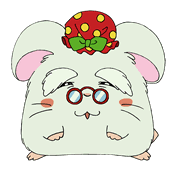 Auntie Viv (おハムばあさん, Ohamubaa-san) is a extremely fit elderly hamster with an attitude. She used to be involved with Elder Ham, or maybe she still is.
Character
Edit
Auntie Viv will appear randomly in the show. Even though she's old, she loves doing things like snowboarding or skateboarding. She is sometimes "wild". But, she is kind and sometimes will give the ham-hams free advice.
Ad blocker interference detected!
Wikia is a free-to-use site that makes money from advertising. We have a modified experience for viewers using ad blockers

Wikia is not accessible if you've made further modifications. Remove the custom ad blocker rule(s) and the page will load as expected.